How do you feel when you find a webpage that's full of word – that's all – not one single image to be found?
If you're like me, you'll find it…BORING! It reminds me too much of the hard text books we had to slog through in school. I don't want to work that hard, so I click away. Isn't that what you do, too?
When you're blogging as a way to market your new online business, you might have a few pictures you've taken that you can put up on your site. If you're not a professional photographer, however, you probably won't have many images you can use. True it's good to reveal something about yourself so your readers can connect with you. However, you will want to focus on using professional images. Too many photos of your kiddies and pets could set the wrong tone for your business blog. And when you're trying to present a professional brand for your business you need to have good quality images that capture attention and add to the value of your content.
Where do you find professional free images for your business website?
As you try to keep costs down, free images is a perfect solution. So you search for images online, and you find images that say they're free,public domain, creative commons, royalty free and so on. What does it all mean? Let's see if I can answer your questions…
Can I copy and paste any image that I find on the internet? Absolutely not! Many photographers make their living by selling their photos and they've put copyrights on their materials. You don't want to infringe on those copyrights. It could cost you thousands of dollars in court costs. Besides, it's only fair that we respect the intellectual property rights of others.
Is it okay to use "free" images? Yes, you can find free images online. Again you need to exercise caution to make sure you're not infringing on the rights of the owners of those images. While I'm not providing legal advice, here are some basics guidelines...
Public Domain Images. If the image is designated as a public domain image that means anyone can use it without asking for permission or paying royalties to use it.
For example, the image I use here is Maxfield Parrish's Princess Parizade Bringing Home the Singing Tree. (I love his work.) It says attribution is not legally required. But why not give credit? It's a great opportunity to use keywords (public domain image) in the caption.
A number of great places to find public domain images are:
Not all the images they list will be public domain so double-check before you post anything.
Creative Commons Images. Images with this label require specific attribution, or giving credit where credit is due. This might mean identifying the name of the photographer and/or attaching a link back to the author. They offer six different licenses, which are identified by a combination of these specific icons: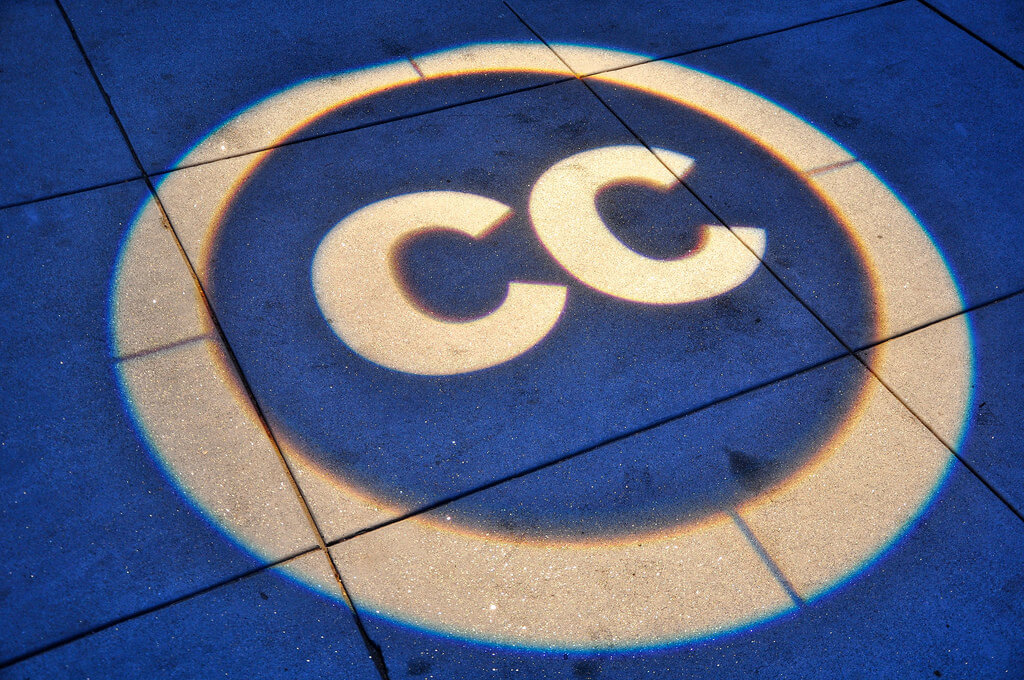 CC for creative commons
BY displayed with a man figure means the author wants attribution
ND = means no derivation, i.e., it can't be altered or adapted
SA displayed with a round back arrow means ShareAlike, the people you share it with are bound by the same constraints as you are because of the licensing.
NC displayed with a slash through a dollar sign means no commercial use.
The image at the right is a Creative Commons Image, so I give full attribution here. FYI – normally I'll post photo attributions at the end of the post.
"CCPHOTO" by tvol, used under CC BY.
To help you more easily identify if an image is usable, become familiar with the following six creative common licenses. The first license is the one that most useful for online businesses. I list all six so you'll be familiar with them.
1. Attribution 4.0 International. Attribution necessary. Yes Adaptation. Yes Commercial Use. This Free Culture License allows you to share (copy, and redistribute it in any medium or format) Adapt (remix, transform and build upon) for commercial use.
2. Attribution-NonCommercial 4.0 International. Attribution necessary. Yes you can Adapt or alter the image. No Commercial Use – Unless you get documented proof that you have the owners okay to use this image, this is not a good option for a business blog..
3. Attribution-NoDerivatives 4.0 International. Attribution necessary. No adaptations or alterations allowed. Commercial Use permitted. This one is okay for you to use. You'll need to make sure you specify that the image cannot be altered at any time in your attribution.
4. Attribution-NonCommercialNoDerivatives 4.0 International. Attribution necessary. No adaptation – Can't alter the image in any way. No Commercial Use unless permission is granted.
5. Attribution-ShareAlike 4.0 International: Attribution necessary. Commercial use. This permit others to distribute derivative works only under the same license that governs your work.
6. Attribution-NonCommercial-ShareAlike 4.0 International Attribution necessary. No Commercial Use permitted.This is not a good option for a business blog.
How do you give an attribution for a Creative Common image? You'll have to read the individual licenses, but a standard attribution covers the name of the image, the author, the license, and where it can be found. Remember this acronym:
 T A S L
"Title of Image" by "Author" "Source – hyperlink to where the image can be found" used under "License for example CC BY /changes made from original if required. Go back up to the attribution for the CCPhoto and see how I've done it. I made not alterations, so I didn't have to list them.
Royalty Free Images. Don't mistaken free to mean you can use it without any obligations. First you must purchase them. Once you pay a licensing fee, you can usually use the image as many times without paying additional royalty fees. Tip: Keep records of your purchase of the license, so you can have proof that you have those rights. You can buy individual images (higher price), however, it more economical to  buy an annual subscription. Sometimes you can find coupons online or you can wait for a special offer and get them at a nice deal.
Suggestions for purchasing royalty free images:
www.bigstockphoto.com (They have a trial subscription…for 7 days download 5 images each day…Before you sign up, pick the photos you want, so you can quickly grab them each day. It's too hard to remember to go in every day to grab them otherwise. It would be a pity to miss a day and lose out.)
Copyright Images. Stay away from these images since the owner has all rights reserved.
Your take away from this: Always read the licensing agreement. When in doubt, ask for permission or don't use it. With the thousands of images available, you'll be able to find one that you can freely use.
Tweet: Hey…@MSProWebCopy has some great tips for finding free #images.
Action Tip: Create a folder labeled "Graphics". Within that folder create further folders, each labeled with the place you get images. For example I have Creative Commons, Pixabay, DeathtoStockPhotos, StockPhotosforFree, Wiki, etc. Copy the licensing terms for each place and insert that into its respective folder. Highlight how each place allows their images to be used for quick reference.
If you've found another great place to get images, please leave your suggestions in the comments below.